MENU
Call for Availabilities
(419) 410-4209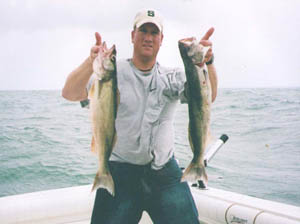 Lake Erie Spring Walleye Fishing
The months of April and May can provide some of the best and fastest action of the year. Limits can be caught in minutes! 80% of our Walleye population come to the Western Basin and Maumee Bay to their spawning grounds, which makes for a very short boat ride. We primarily jig fish with hair jigs or blade baits, both can be tipped with minnows.
Lake Erie Summer Walleye Fishing
June is a good month for fishing. The weather is warmer and the fish start to leave their spawning grounds and start to become more aggressive. We target these fish by casting worm harnesses or weight forward spinners tipped with a night crawler.

July is what most people say is the best month for casting for limits of Walleyes. These fish are very hungry and aggressive. Don't let the hot Summer days fool you!

August the fishing begins to slow down a notch depending on the water temperature. The Walleyes begin to make their way East to the deeper, cooler water where they will remain throughout the Fall and beginning of the Winter months.
Lake Erie Fall Walleye Fishing
From the month of September to the beginning of ice, these months can produce trophy size Walleyes. We primarily fish East of Sandusky Bay to Cleveland. Trolling crank baits is usually the method used but also casting worm harnesses can be effective.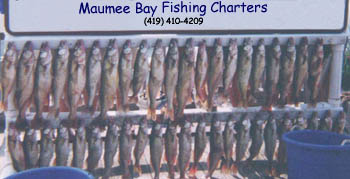 Website © 2007 Maumee Bay Fishing Charters, LLC. All rights reserved.